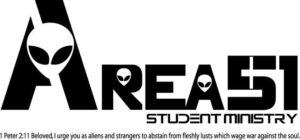 AREA51 is the Student Ministry of Gourd Springs Baptist Church. AREA51 is designed for middle and high school students (7th-12th Grade). We desire to see our students be in the world but NOT OF THE WORLD. Our Student Ministry is built upon the Absolute TRUTHS of scripture.
1 Peter 2:11 "Beloved, I urge you as aliens and strangers to abstain from fleshly lusts which wage war against the soul."

We meet Sunday @ 4:45 and Wednesday evenings @ 6:30 pm in Area51!
For questions or more information, please contact
click here for Student Ministry updates and info