Gourd Springs Baptist Preschool 2023-2024 school year registration is currently under way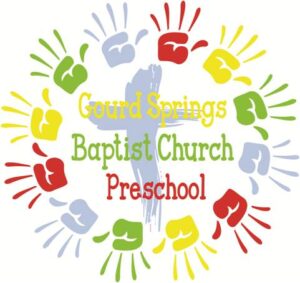 Welcome to Preschool!
Gourd Springs Baptist Preschool was established as an outreach to the community to provide a quality early education experience for children ages 3 to 4 years old or through Kindergarten in a warm and friendly environment within a spiritual setting.
Gourd Springs Baptist Preschool admits students of any race, color, national origin or ethnicity to all the privileges, rights, programs and activities provided by this school.
Our school is designed to start the education process of learning to work with others, respect others and their own feelings. Also, children will be developing the skills of shapes, sizes, letter and number identification to better prepare them for Kindergarten. Children will do this by learning through song, games, arts and crafts and center rotations. Each staff member is qualified and competent to provide loving and nurturing care to each child. Our teacher/child ratio is in accordance with state law: twelve or less per teacher. Classes are divided according to each child's age. All children must be potty-trained. Daily Program Schedule Carpet Time – Flag, Salute, Calendar, Song, and Story Class Time – Daily lesson by Curriculum (includes color, shape, letter, and number concepts) Snack Time Center/Activity Time – Rotation of Centers and Arts and Crafts Play Time – Indoor or Outdoor (depending on weather)
Hours Gourd Springs Baptist Preschool will meet Monday thru Friday from 9:00 am to 12:30 pm.
The Preschool Year will begin the first Tuesday of September following Labor Day and will end the last Thursday in May before Memorial Day. Gourd Springs Baptist Preschool will provide a list of days we will be closed for at the beginning of each year.
Please complete the registration form found under the registration section and be aware that there is a $50.00 registration fee. Your spot is not secured until the registration fee is paid. Your child may be placed on a waiting list depending on how many spots are available. You will be notified if this happens.
The monthly fee is $300 due by the 5th of each month.
For Any Additional Information and Concerns, Please Feel Free To
Contact Us at the address below:
Gourd Springs Baptist Church
4575 Ray Road Spring Lake, NC, 28390
(910) 436-0276